What Happens During A Hailstorm?
1/18/2021 (Permalink)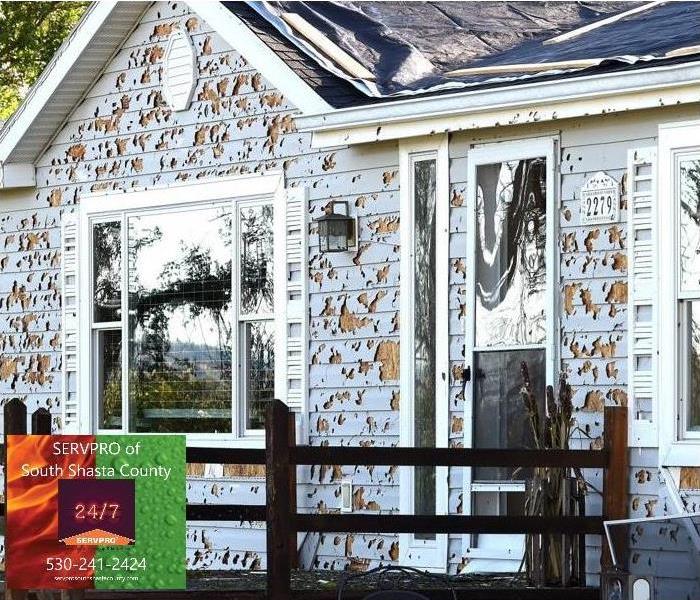 If you have hail damage call SERVPRO of South Shasta County 24/7 for all your water damage needs at 530-241-2424.
There are 4 types of severe storms that can cause heavy damage to your home, office, and outbuildings in the Northern California area. These storms consist of hail, lighting, wind, and rain.
In Northern California we rarely see hail the size of dimes and quarters. However, June of 2019 proved to be a hailstorm to remember. Many of us watched in disbelief as the quarter size hail hit our car windshields, plants, and roof tops. Watching the damage unfold right in front of us for a full half hour.
The damage after the storm was a mess. Roof tops, skylights, and windows had been torn, tattered and broke by ice balls the size of rubber balls you find in a vending machine at the grocery store. Many people were not prepared for such an unexpected hailstorm in June. Once the built-up hail on roof tops began to melt many people found themselves with water damage on their ceilings.
If you find yourself in a similar situation due to any type of storm damage call SERVPRO of South Shasta County 24/7. We can send our expert Water Techs out to cover up any continuous water damage from entering your home, dry out and monitor existing water damage and repair water damages.
SERVPRO of South Shasta County
works directly with your insurance company.
gives free inspections.
provides you with a free estimate.
We are here to makes sure that the damage stops and does not continue to create more damage. Call Now! 530-241-2424